90 dagen batterij
60 dagen uitproberen
Levenslange garantie
elke 8 weken een nieuw borsteltje (6,-) thuisgestuurd
altijd duurzaam en gratis thuisbezorgd
Op voorraad, klaar om te verzenden
Voor 17.00 uur besteld = morgen in huis
60 dagen uitproberen
Veilig betalen
Waarom Boombrush?

Meerdere wetenschappelijke onderzoeken hebben aangetoond dat elektrisch poetsen leidt tot 22% minder tandvleesproblemen en 18% minder tandbederf. Tandartsen bevelen daarom elektrisch poetsen aan.

De Boombrush is de enige tandenborstel waarbij je alle borstelkopjes gratis mag terugsturen zodat wij die kunnen recyclen. Verder gaat de batterij meer dan 3 maanden mee, laden behoort dus (bijna) tot de verleden tijd. Maar ook het vervangen van batterijen is niet goed voor het milieu, De unieke batterij van Boombrush gaat bij goed gebruik jaren lang mee.

De Boombrush heeft 5 handige poetsstanden en een 4 x 30 seconden poetscoach, en een handig Repeat programma. Zo helpt Boombrush je iedere dag aan een gezonde routine, een stralende lach vol zelfvertrouwen en super gezond tandvlees.

Wat krijg ik allemaal?

De Boombrush zit duurzaam verpakt in ongebleekt FSC gecertificeerde papieren verpakking (ook geen plastic coating) die 100% recyclebaar is. Je kunt hem natuurlijk ook gebruiken om nog iets leuks van te knutselen. in de doos zitten:

- the brush
- je eerste borstelkopje
- oplaadkabel (USB naar USB-C)

Hoe werkt Repeat?

Met repeat ontvang je elke 8 weken een nieuwe opzetborstel, duurzaam bezorgd door de postbode. Super handig en lekker fris! Met repeat krijg je bovendien levenslange garantie op je Boombrush, altijd gratis verzending en kan je ons helpen met recyclen. Je kunt natuurlijk stoppen of pauzeren wanneer je maar wilt!

Gratis verzending & retourneren

We sturen de Boombrush gratis en duurzaam naar je op, altijd. Sonisch poetsen kan even wennen zijn. Daarom mag je de Boombrush 60 dagen uitproberen. Ben je toch niet tevreden, mag je hem binnen 60 dagen ook gratis naar ons terug sturen.
bijna nooit meer
opladen
met 90 dagen batterij
Door de Boombrush 10 uur op te laden, gaat de batterij 90 dagen mee. Dat betekent maar 4x per jaar opladen. Je hoeft dus nooit een oplader mee te nemen!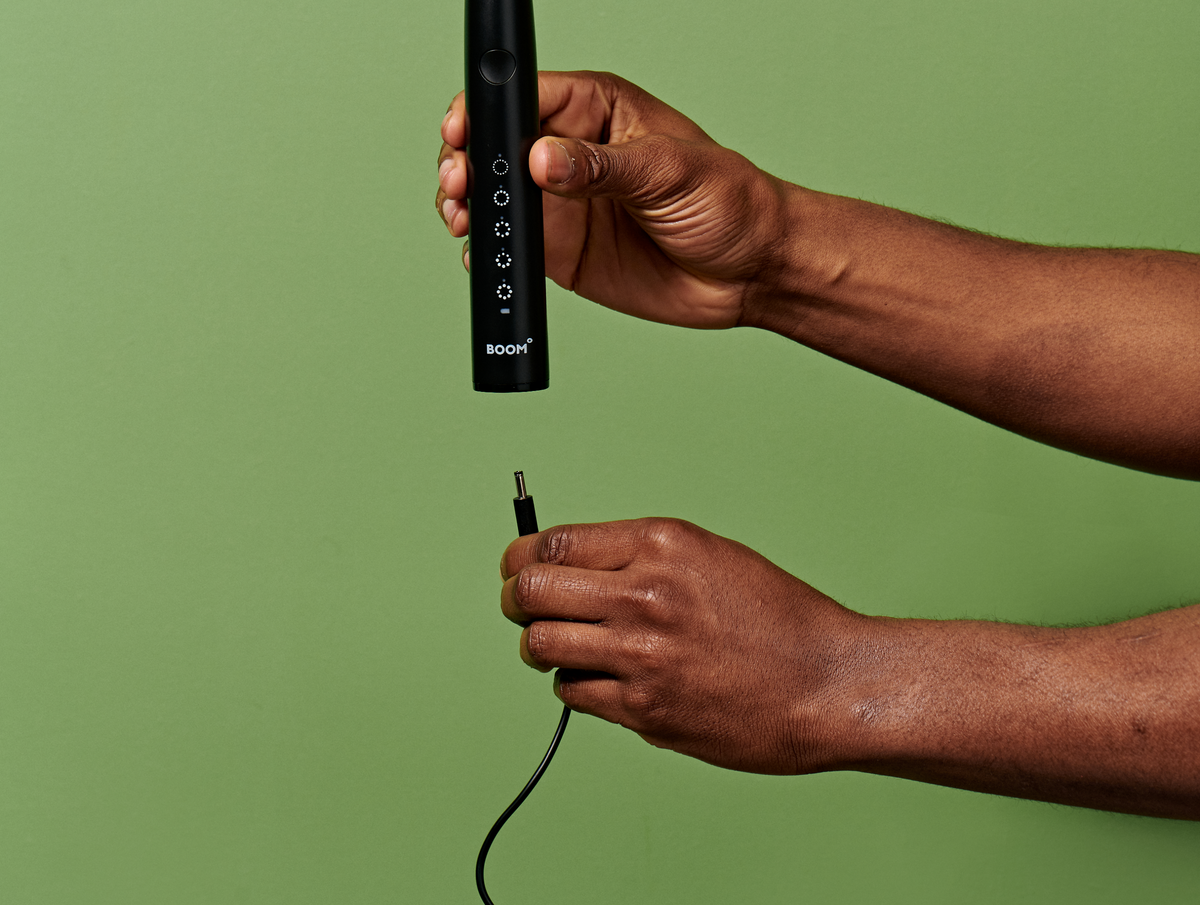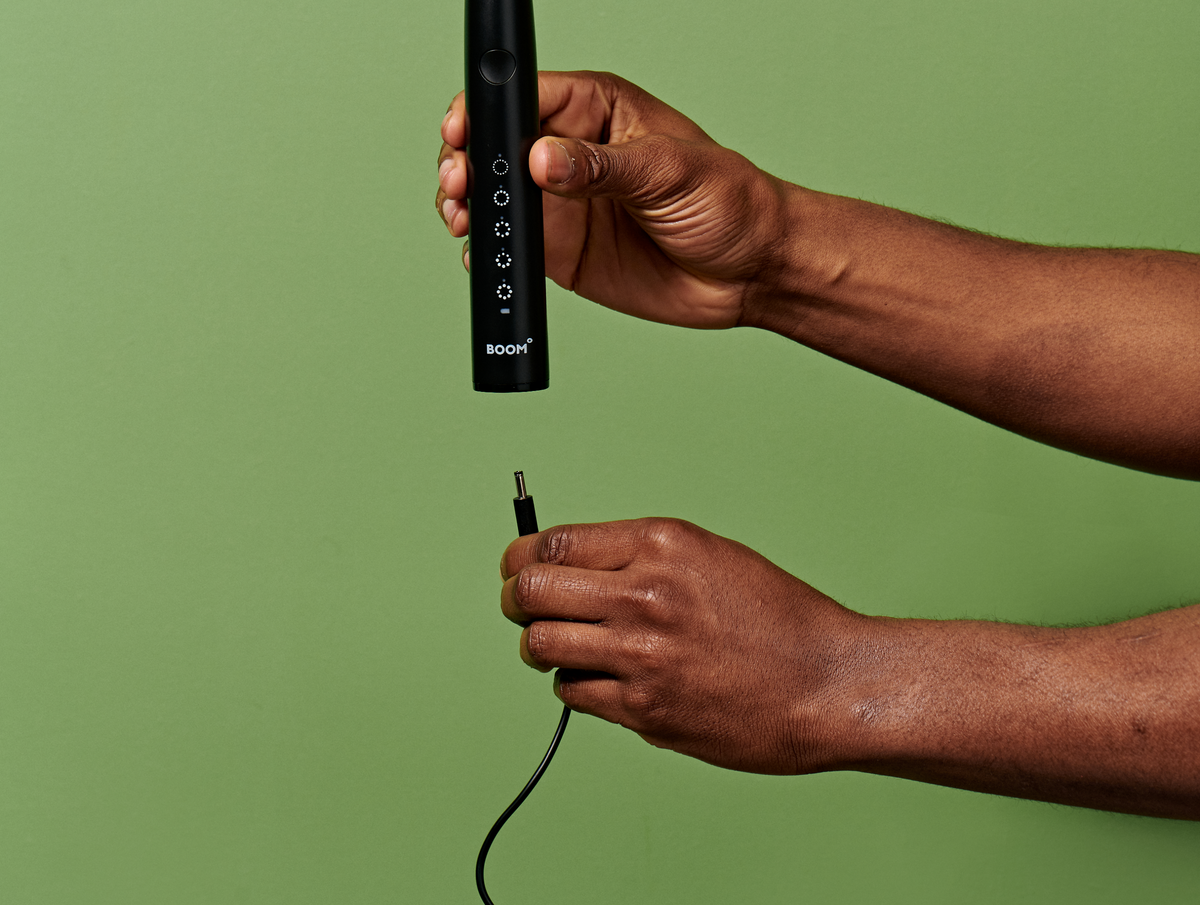 levenslange
garantie
nooit meer anders!
Je hoeft nooit meer een nieuwe borstel te kopen. Gaat je borstel stuk? Dan krijg je van ons een nieuwe!
duurzaam
poetsen
100% recyclebaar
Al onze producten zijn 100% recyclebaar en kun je terugsturen via ons recycleprogramma! Wij zorgen voor de rest
about
the brush
about
the paste
repeat and
Repeat...
Jouw producten altijd gratis en duurzaam bezorgd
pauzeren of stoppen wanneer jij wilt
Altijd een schoon borstelkopje
wat de brushers
over ons zeggen
FAQ's
Over de Boombrush
Is the Boombrush waterproof?

Of course! The brush is IPX7 certified and therefore waterproof. This means that it can be 1 meter under water for up to 30 minutes without breaking down. So you can also use it in the shower.

What makes the Boombrush unique?

The Boombrush is a good industrial design and has an unprecedented battery life of no less than 90 days, which makes it ideal for taking on a trip. The brush remembers your personal vibration preferences and you can take out a tailor-made Repeat subscription to receive fresh brush heads. In combination with this subscription you have a lifetime warranty, which is why you only purchase a Boombrush once. In addition, all brush heads are also recycled.

Which version of the brush head do I receive with the brush?

At the brush you will receive our regular version. You can recognize this by the rubber coating on the back and the wave in the bristles. The soft version does not have this either.

Why is there fluoride in the paste?

Fluoride protects your teeth and makes the enamel stronger. This is because fluoride ensures that the enamel of the teeth can withstand a lower pH value, which means that the enamel can dissolve less quickly. This reduces the risk of spoilage and the development of cavities.

Why don't you sell bamboo brush heads?

This is a very conscious choice! Bamboo is less hygienic as it can retain moisture and therefore bacteria. In addition, such bamboo cups often still contain a part of plastic. Our choice is therefore to continue to use the current cups made of plastic and to give our customers the opportunity to return the used cups to us so that we can recycle them and thus jointly reduce our plastic waste!

Is the tube of the paste recyclable?

Of course! You can send these back to us, just like your brush heads. Then our recycling partner will work with it to give it a good new destination.
Algemeen
What is the delivery time of the brush?

If you order before 20:00, the order will be shipped the same day. We ship from the Netherlands and the delivery time to Germany is approximately 3-4 working days.

How long can I try out the Boombrush?

You can try it for free for 60 days! If it is not what you expected, you can contact our customer service. They will then help you with your return.

Do I have a warranty on my brush?

With BOOMBRUSH Repeat you have a lifetime warranty on your BOOMBRUSH! If your brush does anything less than perfect at any time, we'll get you a new one! If you don't have a Repeat plan, we still provide a 2-year manufacturer's warranty.