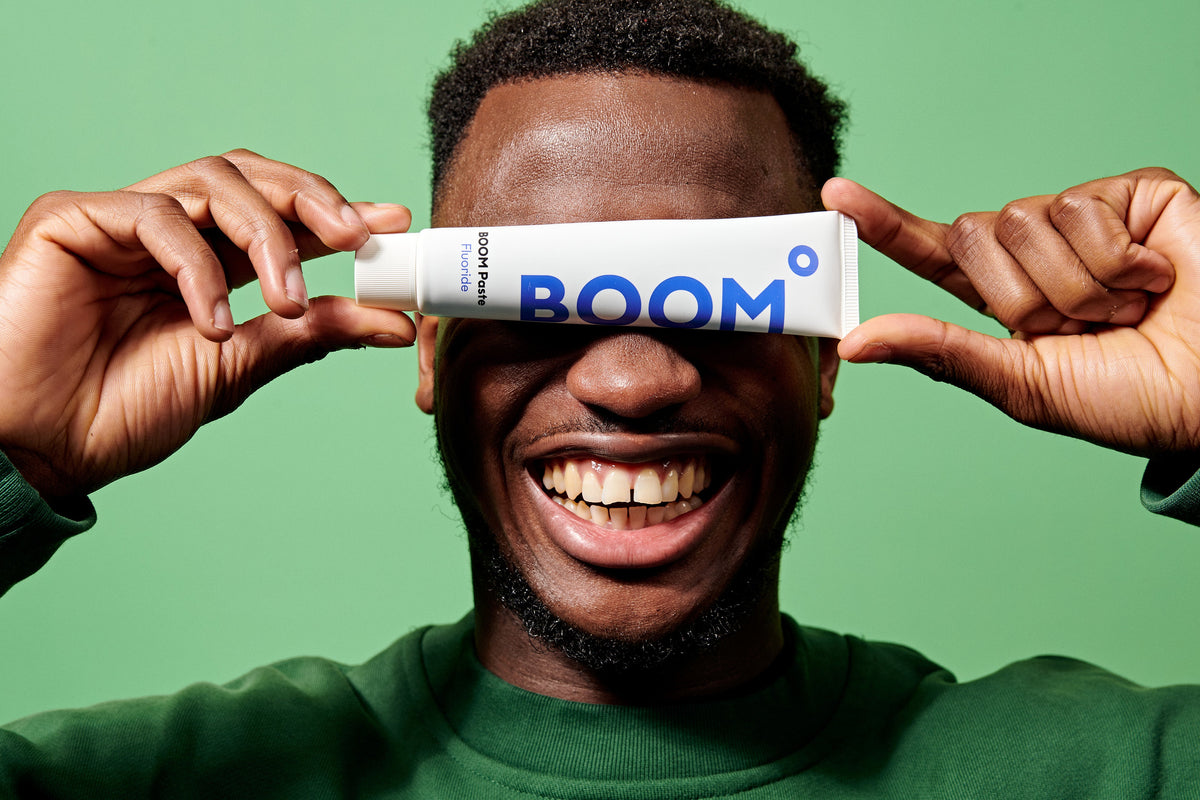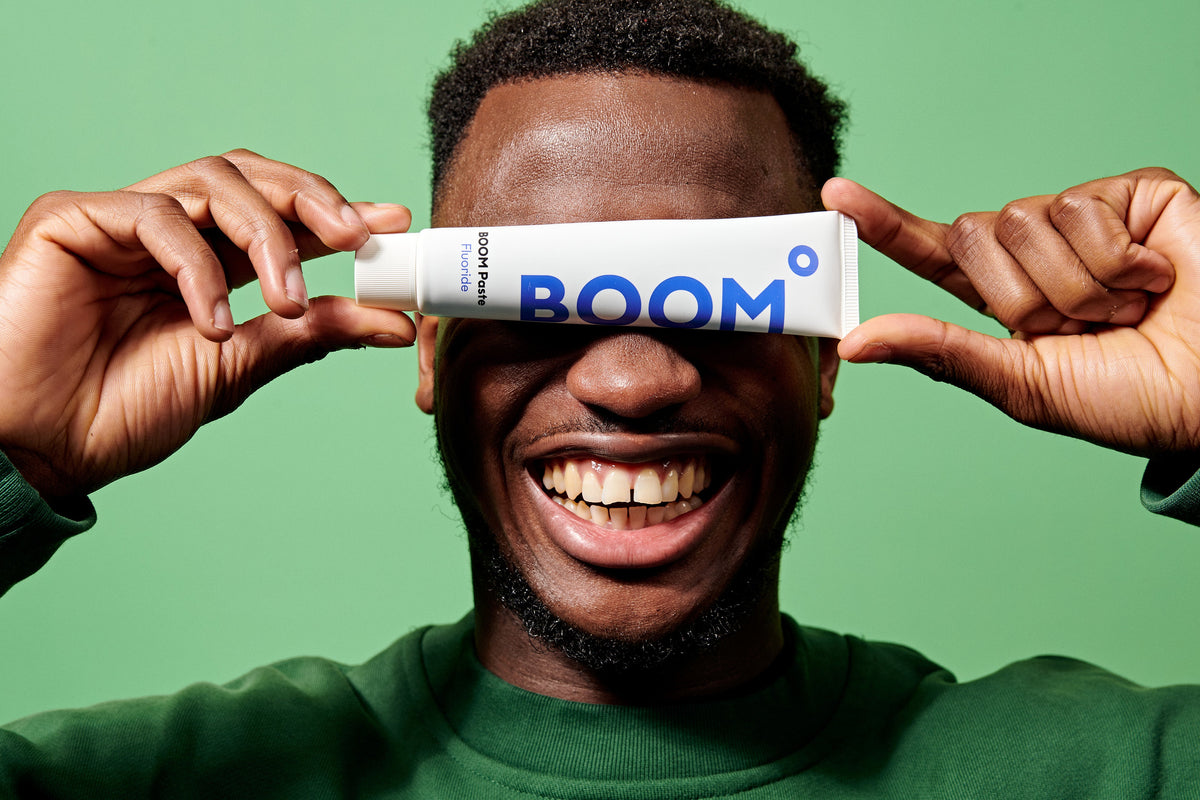 100% vegan
free of microplastics
with fluoride
add it to your subscription
new toothpaste (3,-) in the house every 8 weeks, together with your fresh brush
always free and sustainable home delivery
In stock, ready to ship
Fits through the letterbox
Extra affordable with Repeat
Secure payment
How does Repeat work?

With Repeat you will receive a new paste for your brush head every 8 weeks so that you always have enough stock for a fresh smile. With Repeat you also have free shipping and a lifetime warranty on the Boombrush. Pause or stop at any time.

Is your toothpaste sustainable?

We always make every effort to make a product that is as sustainable as possible. Our toothpaste is packaged in a biodegradable and recyclable plastic. You can return your empty tubes to us so that we recycle them into beautiful new items. Furthermore, the paste is vegan and completely free of microplastics. And despite that, it is super fresh and effective.

Why is there fluoride in the paste?

After long consultation with dentists and our Boompanel, we have decided to make the best basic toothpaste for everyone. Dentists have advised us that this is the best solution for optimal results.

Toothpaste, the good way

Our paste is 100% vegan, approved by dentists and is of course not tested on animals.

Together with our customer panel and dentists, we have ensured that the paste contains exactly the right ingredients that you need for the ultimate dentist fresh feeling. We are very proud to be able to offer this ultimate paste as a 4 pack, but of course also in Repeat, so that you never run out.

Ingrediënten

- Sorbitol
- Aqua
- Hydrated Silica
- PEG-8 (PEG400)
- Tetrapotassium Pyrophosphate
- Sodium Lauryl Sulfate
- Xanthan Gum
- Aroma
- Sodium Saccharin
- Sodium Fluoride
- Cetylpyridinium Chloride
- Mica
- CI 77891
- CI 74160
about
the paste
durable
to polish
The toothpaste tube is 100% recyclable and can be returned to us free of charge. Good for the environment, and of course the toothpaste is free of microplastics :)
repeat and
Repeat...
free home delivery
never again without
pause or stop whenever you want
what the brushers
say about us
Frequently Asked Questions
About the paste
What is Repeat and how does it work?

With the Repeat we will send you a new brush head every 4, 8 or 12 weeks. This way you always have a fresh brush on time and you can get the most out of your toothbrush. You can adjust, pause or stop your Repeat at any time in your Boombrush account. In addition, with a Repeat plan you have a lifetime warranty on your Boombrush.

Why is there fluoride in the paste?

Fluoride protects your teeth and makes the enamel stronger. This is because fluoride ensures that the enamel of the teeth can withstand a lower pH value, which means that the enamel can dissolve less quickly. This reduces the risk of spoilage and the development of cavities.

Why can't I order a single tube?

We only offer this in the form of a Repeat subscription. We have deliberately chosen this because it is not sustainable to send a loose tube of toothpaste. That is why we supply these in 4-packs, which saves three times emissions. If you want to try out the paste, you can add it once to your Repeat.

Why don't you have toothpaste tablets?

We don't have these (yet). Tablets are often chosen from a sustainability point of view. Fortunately, our paste is 100% recyclable, so you can simply brush sustainably with it.

Can I choose how often I get my Repeat?

Which can! Via your Boombrush account you can indicate how often you want to receive a Repeat. This is set to once every three months by default, but you can also change this to once every two months or once a month.

Certainly! The PEG-8 compound used is a water-soluble polymer and is not a plastic. That is why the paste does not contain BPA or other microplastics. In short: you can simply brush plastic-free with the paste!

Is the tube of the paste recyclable?

Of course! You can send these back to us, just like your brush heads. Then our recycling partner will work with it to give it a good new destination.

How can I extend my Repeat?

How nice that you want to expand the Repeat! You can easily do this in your account on our website. Here you can also adjust the hardness of your brush(es). If you are unable to resolve this, our customer service will of course be happy to help you!

Does the paste contain microplastics?

the paste does indeed contain no microplastics. The PEG-8 compound used is a water-soluble polymer and is not a plastic. In short: you can just brush plastic-free with the paste!
General
Who or what is Boombrush?

Boombrush is a new brand in oral care. We believe that oral care can be easier and more conscious! Together with health experts, we get to the core of good oral care. Check out the full story on our culture page.

Do I have to pay for the shipping?

If you buy a brush, we ship it for free! You also do not have to pay shipping costs for a Repeat. For loose products such as cables and brush heads we charge € 2.00 shipping costs, provided that the total amount remains below 40 euros.

How can I track my order?

If you buy a brush, you will receive a confirmation email from us, which also contains a link to a Track & Trace code. With this code you can easily follow it.

Other orders are sent by post. You can track this via the PostNL app. Then you know when it's almost there.