90 days battery
Try it for 60 days
Lifetime Warranty
a new brush (6,-) sent home every 8 weeks
always sustainable and free home delivery
In stock, ready to ship
Ordered before 17:00 = sent today
Try it for 60 days
Secure payment
Why Boombrush?

Several scientific studies have shown that electric brushing leads to 22% less gum problems and 18% less tooth decay. Dentists therefore recommend electric brushing.

The Boombrush is the only toothbrush where you can return all brush heads free of charge so that we can recycle them. Furthermore, the battery lasts more than 3 months, so charging is (almost) a thing of the past. But replacing batteries is also not good for the environment. Boombrush's unique battery will last for years if used properly.

The Boombrush has 5 handy brushing modes and a 4 x 30 second brushing coach, and a handy Repeat program. This is how Boombrush helps you every day with a healthy routine, a radiant smile full of confidence and super healthy gums.

What do I get?

The Boombrush is sustainably packaged in unbleached FSC certified paper packaging (no plastic coating either) that is 100% recyclable. You can of course also use it to make something fun. Included in the box:

- the brush
- your first brush head
- charging cable (USB to USB-C)

How does Repeat work?

With repeat you will receive a new brush head every 8 weeks, delivered sustainably by the postman. Super handy and nice and fresh! With repeat you also get a lifetime warranty on your Boombrush, always free shipping and you can help us recycle. Of course you can stop or pause whenever you want!

Free shipping & returns

We always send the Boombrush to you free of charge and sustainably. Sonic brushing can take some getting used to. That's why you can try the Boombrush for 60 days. If you are not satisfied, you can also return it to us free of charge within 60 days.
Charging almost
never
with 90 days battery life
By charging the Boombrush for 10 hours, the battery lasts 90 days. That means only charging 4 times a year. So you never have to take a charger with you!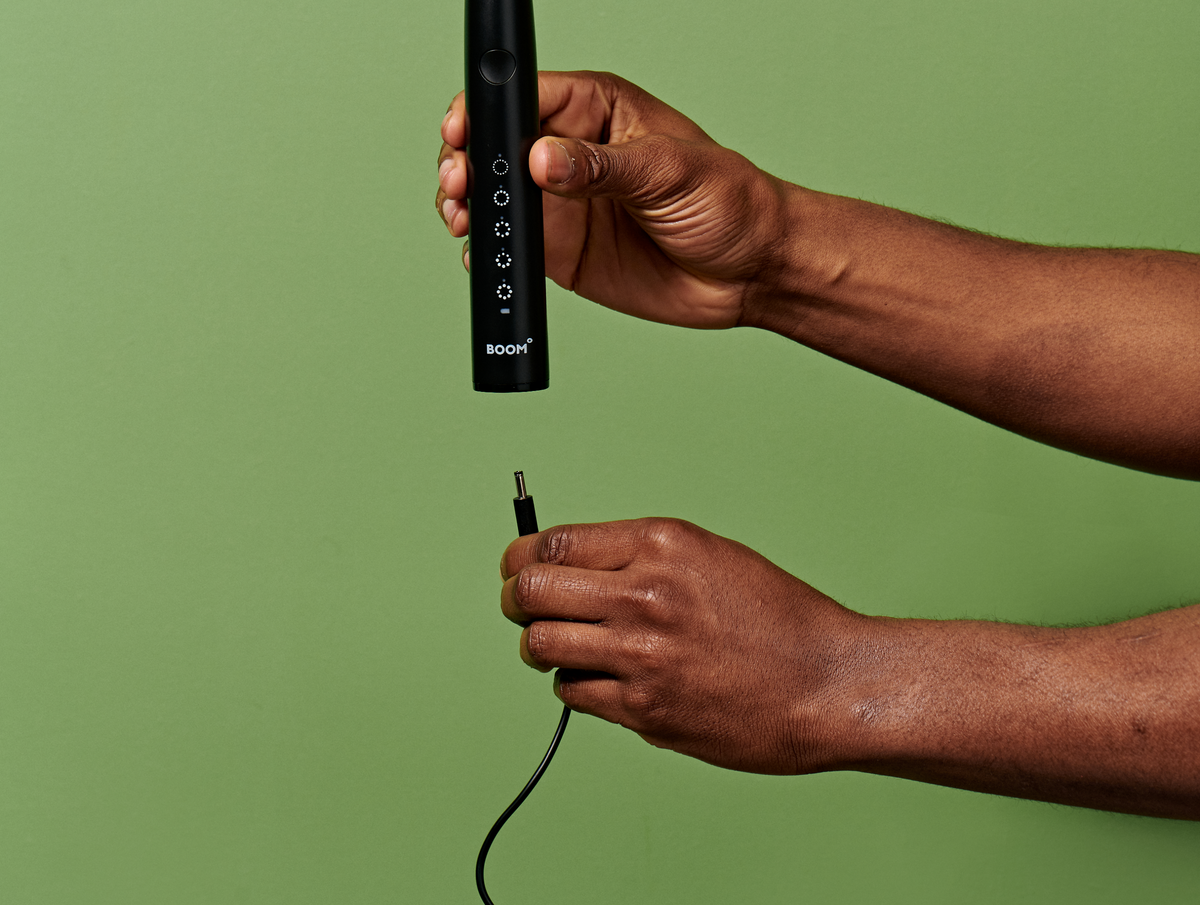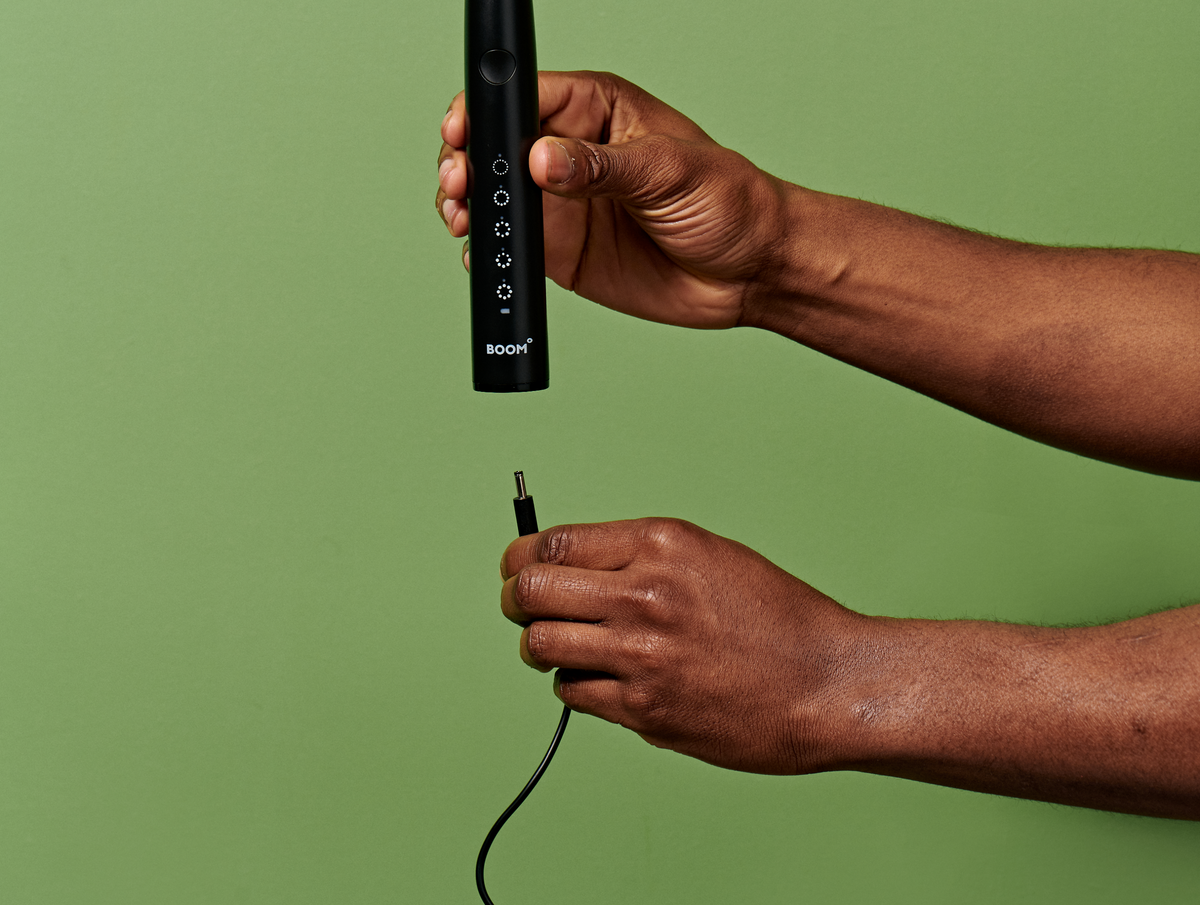 lifetime
warranty
never anything else!
You never have to buy a new brush again. Is your brush broken? Then we'll give you a new one!
durable
to brush
100% recyclable
All our products are 100% recyclable and you can return them through our recycling program! we take care of the rest
about
the brush
repeat and
Repeat...
Your products always delivered for free and sustainably
pause or stop whenever you want
Always a clean brush head
what the brushers
say about us
FAQs
About the Boombrush
Is the Boombrush waterproof?

Of course! The brush is IPX7 certified and therefore waterproof. This means that it can be 1 meter under water for up to 30 minutes without breaking down. So you can also use it in the shower.

What makes the Boombrush unique?

The Boombrush is a good industrial design and has an unprecedented battery life of no less than 90 days, which makes it ideal for taking on a trip. The brush remembers your personal vibration preferences and you can take out a tailor-made Repeat subscription to receive fresh brush heads. In combination with this subscription you have a lifetime warranty, which is why you only purchase a Boombrush once. In addition, all brush heads are also recycled.

When can I change my Repeat preferences?

Whenever you want! Please note that you stop or pause the Repeat option at least 24 hours before the next shipment, otherwise we can no longer cancel the shipment and it will be charged and sent. We will send you an email as a reminder at that time.

Which version of the brush head do I receive with the brush?

At the brush you will receive our regular version. You can recognize this by the rubber coating on the back and the wave in the bristles. The soft version does not have this either.

Why is there no charging block with my charging cord?

The Boombrush only needs to be charged once every 3 months. With the included charging cable you can plug it into any USB port. This way you can charge it on your laptop, for example, or your phone charger itself. In addition, constant charging via, for example, a charging block is not good for the (life) life of the battery.

Can I use the Boombrush right away when it arrives?

Of course! You can use the Boombrush immediately when you receive it. The brush is about 70% charged on arrival and therefore there is a good chance that it will not last 90 days the first time.

Is the Boombrush also suitable for children?

Absolute! Sonic toothbrushes can also be used for baby teeth. Children under the age of 10 may experience the vibrations as intense. That is why we are now also working on a children's brush. Would you like to stay informed of our developments? Then sign up for our newsletter!

How can I select the different brushing modes?

By briefly pressing the button with which you turn on the brush, you can change the brushing mode. When the timer has expired, the Boombrush remembers your last selected setting. Then you can brush in your favorite right away!
General
What is the delivery time of the brush?

If you order before 20:00, the order will be shipped the same day. We ship from the Netherlands and the delivery time to Germany is approximately 3-4 working days.

I would like to return my brush. How do I do that?

You can view our return conditions for detailed information about this. If you are sure of your choice, please contact our customer service. There we can help you to register your return. Because we cannot reuse the brush head, we will not refund the purchase amount of €6.

How does the 60-day free trial work?

Most people take some time to get used to sonic brushing. That's why you can try the toothbrush for free for 60 days. If you return the toothbrush to us within this period, we will stop your Repeat and you will simply get your money back.

How long can I try out the Boombrush?

You can try it for free for 60 days! If it is not what you expected, you can contact our customer service. They will then help you with your return.

Do I have a warranty on my brush?

With BOOMBRUSH Repeat you have a lifetime warranty on your BOOMBRUSH! If your brush does anything less than perfect at any time, we'll get you a new one! If you don't have a Repeat plan, we still provide a 2-year manufacturer's warranty.